*This material was provided by IA Clarington*
What happened:
On February 24th, 2022, Russian President Vladimir Putin declared the beginning of a "special military operation" aimed at the "demilitarization and denazification of Ukraine." Shortly thereafter, Russian attacks began on cities across the country, including the capital city of Kyiv.
Implications:
Based on Putin's speech and the initial waves of strikes, it is clear that we are in the "Severe" scenario, in which Russia launches major attacks across Ukraine and aims to overthrow the Kyiv government through military means. Despite Putin's claim to the contrary, it is probable that this will include long-term occupation of some territory by Russian forces.
The US and Europe have responded with heavy sanctions, and more are coming, which will also include Belarus. That will include the US adding many, if not all, of Russia's largest banks to the Specially Designated Nationals list, imposing new export restrictions on advanced technology, and broadening the scope of sanctions against oligarchs and family of the political elite. The EU and UK will impose similar measures. Given the severity of the Russian actions, we expect Western policymakers to go beyond their worst-case scenario plans, which puts Russia's expulsion from the SWIFT financial messaging system in play. The Nord Stream 2 pipeline will be sidelined indefinitely. Belarus will also become subject to similar sanctions.
The attack and sanctions response will have far-reaching impacts on the global economy. Oil and gas prices will rise significantly, reinforcing inflationary pressures and weighing on financial markets and global growth. While Western governments probably will exempt energy transactions from sanctions, the blizzard of new restrictions will force many traders to be exceedingly cautious in handling Russian barrels. Brent crude prices will likely rise above USD 100 per barrel until significant alternative supplies become available (e.g., an Iran nuclear deal or more US shale). Gas transiting Ukraine will likely be disrupted, affecting supplies to several central and eastern European countries, and raising gas prices in Europe.
The Russian invasion will mark the beginning of a new US-Russia cold war, creating a rupture between Washington and Moscow that will make anything but the most basic diplomacy extremely unlikely. It will also mark the return of a major militarized border in Europe, raising tensions between Russia and NATO countries from the Baltic states to countries on the Black Sea. The US and NATO will face risk of the conflict spilling over into Poland, Hungary, or Romania (hot pursuit) – which would risk drawing alliance members into conflict.
Refugees and displaced peoples. Within the first day of fighting, Poland received an influx of refugees, with Bulgaria also offering its support. The US government currently estimates that up to 5 million refugees could flee Ukraine.
What to consider: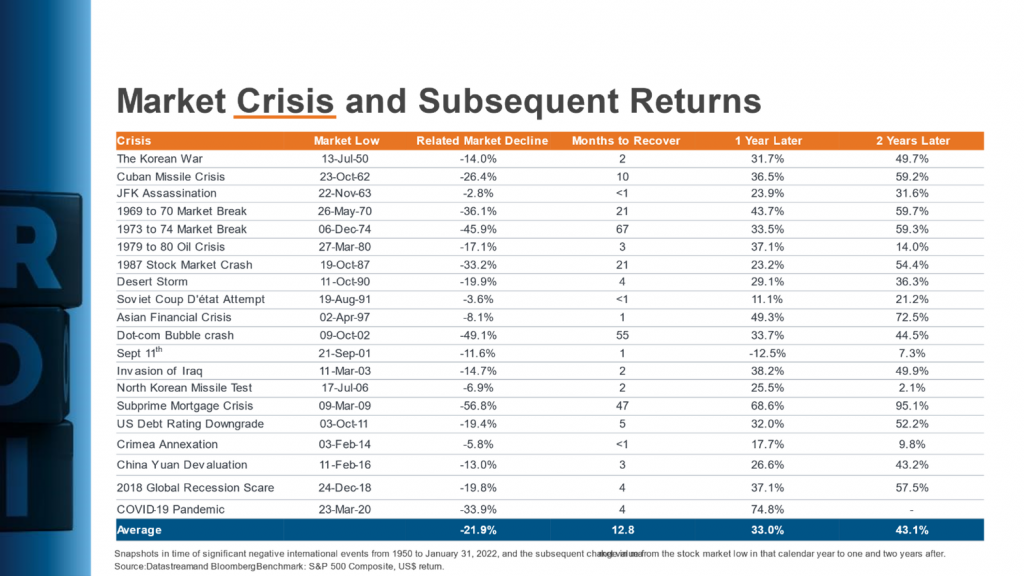 What will this mean to your investment portfolio?
The implications of this conflict could be long-term and far reaching. If you are concerned about what this could mean for your financial future, contact us to book a review appointment.